ERIC ZEISL
Biography Archives Performances Recordings Essays and Articles Publishers Catalogue
"Eric Zeisl was born in Vienna on May 18, 1905. From childhood, he demonstrated an unshakable resolve to compose. Against strong family resistance, he entered the Vienna State Academy at age fourteen. Two years later, his first publication appeared, a set of songs. Despite acclaim as one of Austria's brightest young compositional lights, Zeisl eventually fell victim to Europe's gathering political storm. In November, 1938, he fled Vienna for Paris and temporary refuge, but it was only upon reaching America in September, 1939 that he found permanent sanctuary. Against formidable odds, he achieved recognition in his adopted land, with praise for his work coming from fellow composers Erich Wolfgang Korngold, Darius Milhaud, Igor Stravinsky, Mario Castelnuovo-Tedesco, Alexandre Tansman, Hanns Eisler and Ernst Toch, among others. Then, on February 18, 1959, at the age of 53 and at the height of his creative powers, Eric Zeisl suffered a heart attack after teaching an evening class at Los Angeles City College. He died that night." (Prof. Malcolm Cole, author of Armseelchen: The Life and Music of Eric Zeisl, published by Greenwood Press.)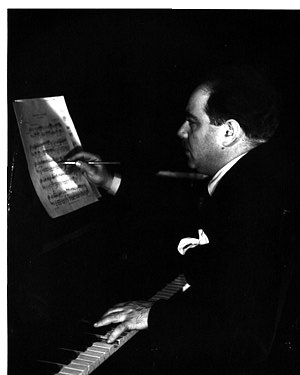 Zeisl's music is richly tonal, but with a modern sensibility. Prof. Malcolm Cole describes his style as "notable for expressive melody, rich harmonies, strong dance-derived rhythms, and imaginative scoring." He was perhaps the youngest of the once successful emigré composers who were forced to abandon their careers and flee Europe. Zeisl was hurt more than most because his reputation had not yet been secured. He won the Austrian State Prize in 1934 (for a Requiem Mass), but because he was a Jew he could not secure a publishing contract since his works would have by that time been banned in Germany, the primary market. (He was just 29 years old.) Despite this disadvantage, the Viennese publishers Universal Edition and Ludwig Doblinger published Zeisl's orchestral works and songs in the 1930's. The Anschluss in March 1938 abruptly ended hopes of any future Central European publications or performances including the planned premieres of Zeisl's comic opera "Leonce and Lena" (after Büchner) by Radio Prague and at Vienna's Schönbrunn Schlosstheater. After narrowly escaping capture during the "Kristallnacht" pogrom of November 9, 1938, Zeisl and his wife fled from Vienna, settling first in Paris, where Zeisl began his lasting friendship with Darius Milhaud. Upon his arrival in New York at the end of 1939, Zeisl obtained a number of radio performances (and received an unused recommendation from Hanns Eisler for study with Arnold Schoenberg), but he was soon lured to Hollywood, where he suffered from being a late-comer to the movies. He worked on a number of well-known films, but never received a screen credit. He soon abandoned film music and returned to serious composition. Zeisl was composer-in-residence at the Brandeis-Bardin Institute and at the Huntington Hartford Foundation. At Los Angeles City College, his students included oscar-winning film composer Jerry Goldsmith and ragtime composer Robin Frost. The composer Leon Levitch also studied with Zeisl. In Hollywood, Zeisl composed a piano concerto, cello concerto (for Gregor Piatigorski), four ballets, numerous choral and chamber works, and half of an unfinished opera, before being felled by a heart attack after teaching the composition theory class (later taught by Ernst Krenek) at Los Angeles City College on February 18, 1959.
The Eric Zeisl Archive is located at the University of California at Los Angeles. The archives contain nearly all of Zeisl's music manuscripts, as well as a vast correspondence which has been indexed and computerized for research on-line.
Eric Zeisl's family tree is also on the web. You can also read Gertrud Zeisl's oral history.
A list of recent and upcoming performances
Click here for recordings of Zeisl's works, including links to order cds and hear the music.
Biographical Essay (Gertrud Zeisl)
Requiem for a Composer (Lynn Gaubatz)
To obtain scores or parts for any of Eric Zeisl's works, please contact Z.M.P.
The music of Eric Zeisl is published by a number of publishers, including:
Zeisl Music Publishers (Z.M.P.), 11110 Montana Avenue, Los Angeles, California USA 90049-3509, tel: 1-310-472-3122, fax: 1-310-472-0165, email: randols@primenet.com
Israeli Music Publications, Ltd., 25 Keren Hayesod St., P.O. Box 7681, Jerusalem, Israel 94188, tel: 972-2-625-1370, fax: 972-2-624-1378
Musikhaus Musikverlag Doblinger, Dorotheergasse 10, A-1010 Vienna, Austria, tel: 43-1-515-030, fax: 43-1-515-0351, email: music@doblinger.co.at
Universal Edition, Bösendorferstrasse 12, A-1010 Vienna, Austria, tel: 43-1-505 86 95-0, fax: 43-1-505 27 20, email: uemusic@uemusic.co.at

Transcontinental Music Publishers, 633 Third Avenue, New York, NY 10017-6778, Tel:(800) 455-5223 (outside NYC), Tel:(212) 650-4101, Fax:(212) 650-4109, E-mail: tmp@uahc.org
Mills Music and Fischer & Bros. c/o CPP/Belwin Inc., 15800 NW Avenue, Miami, Florida USA 33014
Eric Zeisl and Z.M.P. are members of ASCAP.

Please send an email to Z.M.P. at randols@primenet.com if you would like any more information about the works of Eric Zeisl.

Eric Zeisl's works include the following (for more detailed information visit the on-line catalog at the Eric Zeisl Archive):

Published Works

Songs:

Choral Works:
"Requiem Ebraico: 92d Psalm" (Z.M.P. and Transcontinental Music Corp.)
"Four Songs for Wordless Chorus (Songs for the Daughter of Jephtha)" (J. Fischer & Bro./Belwin Mills)
Solo and Chamber Music:
"Pieces for Barbara" for piano solo (Doblinger)
Sonata Barocca for piano (Doblinger)
Sonata for Violin and Piano (Brandeis Sonata) (Doblinger)
Sonata for Viola and Piano (Doblinger)
Sonata for Cello and Piano (Doblinger)
Second String Quartet in D Minor (Doblinger)
"Menuhim's Song" for violin and piano (Mills Music)
"Shepherd's Melody" for clarinet (or violin) and piano (Mills Music)
"Souvenir" for bassoon and piano (Mills Music)
"Greek Melody" for three b-flat clarinets (Mills Music)
"Duckie's Dance" for three b-flat clarinets (Mills Music)
Piano Trio Suite, Op. 8 (Israeli Music Publications)
"Arrowhead Trio" for flute, viola and harp (Israeli Music Publications)
Orchestral Works: Unpublished Works

Songs:
Approx. 70 unpublished songs including:
"Mondbilder" four songs for baritone and piano (texts by Christian Morgenstern)
Choral Works:
"Cantata of Verses," for mixed chorus and piano/chamber orch.
"Three African Songs," for soli, mixed chorus and piano/orch.
"Three Antique Choruses," for women's voices a capella
"The Twenty-Ninth Psalm," for mixed chorus and piano/orch.
"From the Book of Psalms," for tenor solo, male chorus and piano/orch.
"Little Mass," for organ and string quintet, SATB soloists and mixed chorus
"Requiem Concertante," for SATB solo quartet, mixed chorus and orchestra
Solo and Chamber Music
Suite for Violin and Piano, Op. 2
First String Quartet in D Minor
"November," eight pieces for piano
Organ Prelude from the opera Job
Organ Prelude (No. 2)
"Slavic Song" for B-flat clarinet
"The Good Old Time" (Menuett) for bassoon
"Spanish Dance" for wind quintet
"The Hunt" for four horns in F
"The Alamo" for four trombones
"On the Grave of Napoleon" for four B-flat trumpets
"Chinese Princess" for four flutes
"Two Hedge-hogs" for oboe, bassoon and piano
"The Clarinet Players Penny Song" for four B-flat clarinets
Prelude and Fugue in F in the old style for three trombones
"Four Piano Pieces for Good Players" for piano solo
Orchestral Works
Suites

"Fairy Tale Suite" from the opera Die Fahrt ins Wunderland
"Romantic Comedy Suite" from the opera Leonce and Lena
"Orchestral Suite" from the opera "Job"
"Antique Suite" for chamber orch. from The Return of Ulysses
"To the Promised Land" from the opera "Job"

Concertos

Piano Concerto in C Major
Concerto Grosso for Cello and Orchestra

Programmatic Works

"Moonpictures" for baritone and full orchestra
"Children's Songs" for soprano and full orchestra
"November," six sketches for chamber orch.

Absolute Works

"Passacaglia-Fantasy" for large orchestra
"Variations on a Slovakian Folksong" for string orch.
Fanfare [for Stokowski] for brass and percussion
"Music for Christmas" theme and five variations for orchestra
Ballets
"Pierrot in the Flask" (ballet by Zdenko Kestranek)
"Uranium 235" (ballet by Maurice Dekobra)
"Naboth's Vineyard"(ballet by Benjamin Zemach)
"Jacob and Rachel" (ballet by Benjamin Zemach)
Operas
"The Sins" (opera in one act, text by Gretl Buxbaum)
"The Trip to Wonderland" (folk opera, text by Alfred Moeller)
"Leonce and Lena" (romantic comedy, libretto by H.P. Königsgarten after play by Georg Büchner)
"Job" (2 of 4 acts complete, libretto by Hans Kafka after novel by Joseph Roth)
To obtain scores or parts for any of Eric Zeisl's works, please contact Z.M.P.